****
GET A GAME PLAN & ALWAYS BE READY *****
GOTO LINKS ON RIGHT SIDE OF PAGE & REGISTER
CELL PHONES FOR CODE RED ALERT SYSTEM

Tropical Storm Warning from 6/6/2020 10:05 AM CDT until further notice

Coastal Flood Advisory from 6/8/2020 1:00 AM to 1:00 PM CDT

Minor Flood Warning continues for
The Atchafalaya River At Morgan City.
* until further notice...or until the warning is cancelled.



SEE COMPLETE ORDER GOTO OPENSAFELY.LA.GOV

https://opensafely.la.gov/PublicLinks.aspx

---
PARISH OFFICIALS CONTINUE TO MONITOR TROPICAL STORM CRISTOBAL
STAY TUNE FOR MORE UPDATES! PLEASE GET A GAME PLAN...
---



TROPICAL WEATHER UPDATE FROM US NWS LAKE CHARLES 6/6/2020:

Cristobal is still moving quickly to the north. It will make landfall late Sunday afternoon or evening, likely east of Morgan City.

Storm surge of 1 to 3 feet above ground level is expected after midnight
Sunday night into Monday and Tuesday, mainly in Iberia and St. Mary Parishes.

The heaviest rainfall is forecasted to be over south central Louisiana with
two to six inches, with locally higher amounts Sunday and Monday.

Wind gusts will be tropical storm force in parts of south central Louisiana.
Expect scattered power outages Sunday and Monday. An isolated tornado
is also possible.

Here are some breakdown numbers:

Rainfall: southeast Texas <1 inch, southwest Louisiana 1-2 inches, central
Louisiana 1-3 inches, south central Louisiana 2-6 inches..

Storm Surge: 1-3 ft AGL in lower parts of Vermilion, Iberia, lower St. Martin,
and St. Mary Parishes.

Tropical Storm Wind Probabilities: southeast Texas 5-10%, southwest
Louisiana 5-30%, central Louisiana 10-50%, south central Louisiana 40-80%.

Roger

Roger Erickson
Warning Coordination Meteorologist
National Weather Service
Lake Charles, LA







Note: It's important to not focus on any particular model run when assessing
the long-range potential for tropical systems (especially ones that have not
yet developed), since potential solutions can show large variability from one
run to the next, and confidence in any given scenario is very low at long
time ranges. If a system were to develop, it is too early to speculate on
any potential track, intensity or impacts. All areas in and around the Gulf
of Mexico should be monitoring for possible tropical development as we
begin hurricane season.

Beginning on June 1, the National Hurricane Center's Tropical Weather
Outlook, which is issued at 1 AM/PM and 7 AM/PM CDT, will discuss the
potential for tropical cyclone formation during the next 5 days.

Please let us know if you have any questions or need any additional
information.

Roger Erickson
Warning Coordination Meteorologist
National Weather Service
Lake Charles, LA



ST MARY PARISH VIRTUAL HURRICANE PREPAREDNESS MEETING
On Tuesday, May 19th the Port of Morgan City hosted our first Virtual Hurricane
Preparedness Meeting along with NOAA, National Weather Service, St Mary Parish
Office of Homeland Security and Emergency Preparedness, U. S. Coast Guard MSU
Morgan City, St. Mary Levee District, U. S. Army Corps of Engineers, St. Mary Parish
President David Hanagriff and St. Mary Parish Sheriff Blaise Smith. Thanks to all
of you for making this event a success.
U. S. Senator Bill Cassidy joined the meeting to provide a special welcome. Many
thanks to Senator Cassidy for taking time out from his busy schedule to welcome everyone.
We also want to thank everyone who joined in with us. Over 100 people were in attendance.
Presentations and a recording of our Zoom meeting are available on our
Hurricane Info Page on our website.
https://www.portofmc.com/.../a.../news-press/hurricane-info.html
---



SECOND HARVEST FOOD BANK
FOOD PANTRY LOCATIONS:


Little Zion Community Outreach
7814 Hwy 182, Franklin
"M/Tu/Th 9:00am - 10:00am
W 11:00am - 3:00pm"

Pilgrim Grove Baptist Church
1110 Grace St, Morgan City
M/W/F 10:30am - 11:59am











---
TROPICAL STORM CRISTOBAL PRESS RELEASE:

SANDBAG LOCATIONS 6/4/2020

NOON BRING OWN SHOVEL

SELF FILL AT ALL LOCATIONS

PUBLIC WORKS HANSON BARN

10905-A HWY 182 E

GARDEN CITY LA

PUBLIC WORKS

2717 HWY 182 E - UNDER WATER TOWER

BAYOU VISTA, LA

TOWN OF BERWICK

UNDER BERWICK BRIDGE

PATTERSON:

SAND & BAGS TAFT ST & FIRE SUBSTATION SOUTH OF RAIL AFTER NOON

District 11 Four Corners Fire Station

District 11 Glencoe Substation




St. Mary Levee District
1 hr ·
The Franklin Canal Flood control structure will be closed
at 10 am Friday June 5th,2020 (tomorrow morning). We
will then begin to pump down the canal to maximize storage
capacity inside of the system. Please take necessary actions
to be prepared for that closure. The Hanson Canal Flood
Control Structure will be closed some time this afternoon
June 4th, 2020.





COVID-19 PRESS RELEASE:




NOTICE



Please be advised that Misdemeanor Arraignments scheduled for
Monday, May 18, 2020, at 9:00 am, in Franklin, St. Mary Parish,
Louisiana are being continued. You do not need to appear in court
on Monday, May 18, 2020. Misdemeanor arraignments will be refixed
for Thursday, June 11, 2020. Notice of this new date will be forwarded
to all interested parties by U.S. Mail.



NOT ALL CASES ARE SET FOR THE SAME TIME.



It is important that read the notice of fixing because your notice will have
a specified time for you to appear. Do not appear earlier than 15 minutes
prior to your appearance time because your hearing cannot be taken up
earlier than the time indicated.

Because you will be receiving your notice by mail, it is important that your
address provided on your bail bond, summons or citation be your correct
mailing address. If your address has changed recently, you need to contact
the St. Mary Parish Clerk of Court (Email: This e-mail address is being protected from spambots. You need JavaScript enabled to view it or
phone: 337-828-4100 Ext 200) so that they may assist you in changing your
address for notice purposes. If you do not appear in court because you failed
to provide a valid address for service by mail may result in the issuance
of a warrant for failure to appear or suspension driving privileges.

Be advised that only those persons who have been noticed to appear for
court will be allowed entry. Those accompanying these individuals will be
asked to remain outside of the courthouse. Persons entering the courthouse
are encouraged to wear facemasks and upon entering will be expected to
maintain social distancing while in the courthouse. Your court notice will
include a sheet on this and other courtroom policies.









FROM ST. MARY PARISH SCHOOLS:


Meals-to-You Program Extended
Posted by

District

on

4/28/2020



From Ms. Claire Guarisco, Supervisor of Child Nutrition:

The Meals-To-You program has been extended until June 30 for any
student that enrolled during our open enrollment period
(March 26 - March 31).

Parents/guardians with questions or problems with shipping
and/or delivery should email This e-mail address is being protected from spambots. You need JavaScript enabled to view it for assistance.

FROM ST. MARY PARISH SCHOOLS:
April 24, 2020
RE: FOR IMMEDIATE RELEASE

School system personnel have developed plans for completing the school year
and finalizing student grades in response to the governor's extension of school
closures. Throughout the remainder of the school year, students will continue
to complete instructional programs corresponding to their grade level and
course requirements in order to receive credit and meet promotion guidelines.
Traditionally, students were required to attain four quality points as measured
by report card grades, in order to meet promotional standards. Unfortunately,
the extended closure of schools will prevent students from receiving direct
classroom instruction for the final nine weeks grading period and quality points
will be adjusted accordingly. Course passage or promotional guidance will
instead be dictated by the attainment of three quality points as opposed to
the standard four quality points in order to account for school closures.

Parents and students have received instructional packets or assigned high
school course recovery programming that will be used to gauge passage of a
given class or for grade promotion. A May 8th deadline has been set for the
submission of instructional packets in order to provide adequate time for
teacher feedback and supplemental instruction that will support students
in meeting the adjusted passing standards. Schools will be contacting parents
and students to make specific arrangements for instructional packet turn-in
times and teachers will be continuing their communication efforts to answer
questions and support students in the process.

Additionally, schools may set parent conferences via teleconferencing or
phone calls to discuss promotional considerations as the year draws to a close.
The school system is also working to build summer learning opportunities for
students utilizing resources already available including AR360, Edgenuity, and
Clever. As more information is released regarding any adjustments to the
"stay-at-home" order, schools will be announcing schedules for parents and
students to retrieve personal items from classrooms and lockers as well.

Several area high schools have held senior spotlight nights to recognize the
Class of 2020 and preparations for formal graduation ceremonies remain
ongoing as the district awaits announcements on phase one of the state's
re-opening of public areas. Although setting dates for graduation ceremonies
may be tentative, the district anticipates being able to offer more details
very soon





4/17/2020

TERESA T. BAGWELL, Ed. D.
MICHAEL E. TAYLOR SUPERINTENDENT PEARL B. RACK
PRESIDENT VICE PRESIDENT
St. Mary Parish School Board
April 17, 2020

FOR IMMEDIATE RELEASE: PARISH SCHOOLS TO REMAIN CLOSED

Governor John Bel Edwards has officially proclaimed that schools will stay
closed for the remainder of the academic year. Students in St. Mary will
continue their educational studies through the use of school-issued,
instructional resource packets provided to parents in two prior phases
with an additional phase to be released in the upcoming weeks. The school
district also has an array of online instructional options presented by
grade level on the "Learning at Home" page on the district's website.
Further, K-8 students may log into the online portal, "Clever," to
access various English language arts and math programs as they
would during the normal school day.

Parents can expect frequent communication from schools and
announcements from the district as the school year draws to a close.
An organized release of information will encompass important areas
such as, graduation, promotion, summer programs, etc. and will be
immediately released as decisions are finalized. St. Mary Schools
fully intends to make every effort in sustaining learning for students
throughout this time and will continue to provide resources for
parents in order to fulfill that commitment.

Additionally, immediately upon the governor's statement of presumed
closure, St. Mary officials contacted the "Meals to You" program to
extend the meal delivery deadline to May in order to secure a supply
of breakfast and lunch items through the normal close of school.
The immediacy of this request will place the parish in a position to
support uninterrupted meal delivery services for those who elected
to enroll in the program.

Although the governor's proclamation was anticipated, it is a bittersweet
end to the school year and for students who miss crucial face-to-face
classroom instruction, social time with peers, and the caring stability
that daily school attendance brings. Every teacher, principal, and district
official empathizes with the impact that this necessary closure has on
children albeit crucial to public health, and are devoted to offering students
a mechanism to diagnose and recover essential learning beginning on
the first day of the new school year.






4/14/2020
REPOSTING FROM STMARYK12.NET:

Open Letter from the Superintendent (April 14)
Posted by District on 4/14/2020

From Dr. Teresa Bagwell, Superintendent of St. Mary Parish Schools:

Governor John Bel Edwards has announced that schools will remain
closed for the remainder of the academic year. Students in St. Mary
Parish Schools will continue their educational studies through the
use of school-issued instructional resource packets and online
options presented on the Learn-at-Home page on the district's website.

Parents can expect continued communication from schools and
announcements from the district as the school year draws to a
close. Information about important areas such as graduation,
promotion, and summer programs will be immediately released
as decisions are made. St. Mary Parish schools fully intend to make
every effort in sustaining learning for students throughout this time
and will continue to provide resources for parents in order to fulfill
that commitment.



4/9/2020








NEWS RELEASE ON NURSING HOME POSITIVE TEST RESULTS

WE WERE MADE AWARE OF THE RESULTS LATE YESTERDAY
ABOUT RESULTS OF 3 PATIENTS HAD CAME BACK POSITIVE.
WE HAVE MADE CONTACT WITH OUR REGIONAL MEDICAL STAFF.

WE FOUND THAT PROTOCALS ARE IN PLACE WITH THE CDC STANDARDS
AND WILL STAY THAT WAY. WE HAVE CHECKED TO ENSURE THAT THE
NURSING HOME HAS ON HAND PPE SUPPLIES.

OUR REGION HAS 24 OF THE 31 NURSING HOME WITH
POSITIVE PASTIENTS.

WE ARE FORTUNATE THAT WE HAVE ONLY 1 OUT OF 3
NURSING HOMES WITH A POSITIVE.


4/4/2020




4/3/2020
South Central Planning and Development Commission, in an effort to curb the economic effect of federal and state COVID 19 guidelines and closures, is offering small business bridge loans to businesses in the Region. Funding is limited, and we are focusing our efforts on businesses forced to close due to guidelines, current borrowers, and regional referrals.

The application will be available online on Thursday, April 2nd. We ask that you take the time between now and then to gather your paperwork and prepare to upload it as soon as the application becomes available online. A completed application must include the following (to be uploaded with the application):

1. Online application (available Thursday, April 2nd)
2. Most recent 3 years business taxes
3. YTD P&L (and 2019 if you haven't filed taxes yet)
4. Proof of ownership structure
5. For each owner 20% or more:

i. Most recent 3 years personal taxes
ii. Credit authorization (form attached)
iii. Individual profile form (form attached)
iv. Personal financial statement (form attached if needed)
v. Copy of government ID

We are working to assist our Regional small businesses as we lead
up to greater recovery efforts as the COVID 19 disaster progresses.
Offering this bridge loan is a small step in what will hopefully become
a large-scale response as we anticipate working with our State
and Federal partners to participate in future comprehensive recovery
funding related to small business loans. Please note that we are using
our existing loan funds (which are somewhat limited) to offer these
loans, and we do not have the financial backing of the Federal Government.
These loans are not associated with SBA and are NOT forgivable, and
we are unsure as to how this may trigger duplication of benefits related
to SBA loans. They are meant to be a "bridge" to get you to the next phase
of funding.

The following ELIGIBILITY items must be met:

1. In business 3 years evidenced by tax filings
2. No more than 30 employees
3. 600 minimum credit score
4. $25,000 average annual gross revenue over the last 3 years
5. Occupational license (or equivalent)
6. Completed application and supporting documentation (listed above)
7. Other analysis and underwriting to take place internally











Reposting from St. Mary Parish School Board's Website..
www.stmaryk12.net
Meals-to-You Replaces Grab-and-Go
Posted by District on 3/27/2020 10:00:00 AM
St. Mary Parish Schools endeavors to provide food and nutrition to our students
even during this time of emergency school closure. As such, the school system
is announcing a new program that will deliver meals to the doorstep for free.
This program is called Meals-to-You, and it is a partnership between St. Mary
Parish Schools, the U.S. Department of Agriculture, and Baylor University.
For a family to participate, at least one child in the household must:
attend a CEP School:
Aucoin Elementary
B. Edward Boudreaux Middle
Bayou Vista Elementary
Berwick Elementary
Centerville High
Foster Elementary
Franklin Senior High
Franklin Junior High
Hattie Watts Elementary
LaGrange Elementary
Maitland Elementary
Morgan City High
Morgan City Junior High
Norman Elementary
Patterson High
Patterson Junior High
Raintree Elementary
West St. Mary High
Wyandotte Elementary
OR be designated as free or reduced-priced meals eligible at non-CEP schools
Berwick High
Berwick Junior High
When parents or guardians sign-up for Meals-to-You, every other week they will
receive a Meals-to-You box delivered to their home for each child ages 1-18.
Each box will include 10 breakfasts and 10 lunches/suppers, All foods items
are shelf stable and packaged securely. Contents do not have to be refrigerated
immediately, and a friend or neighbor can retrieve the packages for you if you
are not home at delivery time.
With Meals-to-You, kid-friendly meals are delivered—for FREE—directly to the
family, avoiding extra trips to the grocery store, extra money spent on food,
and extra time planning meals that kids will like. This benefit will NOT affect
any existing benefits.
All parents/ guardians will need to complete an online application form and submit
it by Monday, March 30th. Access to the online form is available at the following link:
https://mealstoyou.org/emergency-meals-to-you-application/
.
Meal boxes will be provided on a first come, first served basis, so parents/guardians should
sign up online as quickly as possible.

The Governor announced on Monday, March 30, 2020 he is
extending the State's Stay At Home Order until at least April 30,
in line with similar guidance from the White House. The Governor
said this also goes for the other mitigation measures he had
put in place, including school closures and restrictions
on businesses, and hinted it could go on for longer unless
the state makes headway "flattening the curve," or slowing
the spread of coronavirus to avoid overwhelming health systems.

---
---
MESSAGE FROM ST MARY LEVEE DISTRICT:


Subject: Excavations
We are currently in flood fight phase 1 and soon to be in phase 2.
This is a reminder that any excavation within 1500' of a levee or
floodwall has to have a permit. You must notify the levee district
of these excavations before you do them. We can work through
getting an emergency permit, but there must be notification.
This is a typical requirement but is enforced to a greater extent
when the Carrollton gauge is above 11' and Atchafalaya is above 6'.
Also, if you see any excavations within this zone, please notify us
of that as well. We will promptly investigate the situation and
figure out a solution.
Any current excavations within the 1500' zone must be promptly
backfilled and contact our office so we can work through the issues.
Thank you!
Michael Brocato Jr.
Operations Manager
St. Mary Levee District

The United States Army Corp of Engineers is on site at the slide on West Atchafalaya
Basin Levee. They are installing protective measures over the slide area until the water
goes down and they are able to make a permanent repair. This location will be closely
monitored throughout the high-water period and poses no threat to the community.
If you have any questions please call the office at 985.380.5500.

Just a reminder to the public that riding on any levee slope crown or base is a crime and
when caught you will be charged with trespassing to the maximum extent of the law.
The green area represents the only area that motor vehicles are allowed. The areas in
between the red lines are off limits to any type of motorized vehicle. You are allowed
to walk, ride a bicycle or run. Absolutely no vehicles are allowed. We are also asking
the public to stay away from the slide area completely. It is not safe to be walking
around the site. If you are caught on foot near the slide location, you will be charged
with trespassing. This is for your own safety. If you have further questions please call
the office at 985.380.5500. Thank you!
---
HIGH WATER ADVISORY:

St. Mary Parish OHSEP along with other agencies are currently monitoring
water levels along the Atchafalaya River.

Camp and property owners in flood prone areas need to take action now to
protect and secure property. As the water rises and the current strengthens,
it makes traveling in high water areas more and more dangerous. Don't risk
your life or potentially the lives of others by waiting until the last minute. Also,
remember that anything floating needs to be tied off properly."

Travel is prohibited on all levee roads, crowns, slopes, and bases. Those
trespassing by riding or crossing on levees in areas not designated for public
use are subject to criminal penalties. Any vehicles parked in those areas will
be towed. The St. Mary Levee District will work to protect the integrity of the
levee system.

Because of the higher level of the Atchafalaya River and surrounding waterways,
there is the potential for property damage to occur from wakes caused by boats.
Boaters in areas of high water should slow down. Be mindful of your wake and
the potential damage you could cause.



---
A Message from the
St. Mary Parish Office
of Homeland Security and
Emergency Preparedness:
Although St Mary Parish has been declared a Major
Disaster area, we have been informed that after
the State and Federal officials completed individual
assessments of the damaged properties, St. Mary
Parish fell short of the criteria used for Federal
Individual Assistance.
The U.S. Small Business Administration (S.B.A)
will be offering low interest disaster loans to those
impacted by Hurricane Barry.


Disaster #:
LA-00093
Effective Date:
7/10/2019
Incident Period:
7/10/2019 through 7/15/2019
Incident:
Hurricane Barry
States Affected:
Louisiana
Counties Eligible:
Primary Counties:
Louisiana
Allen, Avoyelles, Saint Mary
Contiguous Counties:
Louisiana
Assumption, Beauregard, Catahoula, Concordia, Evangeline,
Iberia, Jefferson Davis, La Salle, Pointe Coupee, Rapides,
Saint Landry, Saint Martin, Terrebonne, Vernon, West Feliciana
APPLY AT: www.sba.gov
Call: 1-800-659-2955


---
---
---
PUBLIC NOTICE:
St. Mary Parish Government has debris removal crews working along
the roads and streets in the unincorporated areas of the Parish. It is
anticipated that they will make at least two passes along the roads
and streets during the next few weeks in order get all of the debris
from Hurricane Barry removed. Please place the hurricane debris
along the shoulder of the road/street. St. Mary Parish thanks you
for your patience and cooperation in this endeavor. Citizens from
across the parish may also bring their own debris to the West End
Pick-Up Station in Franklin and to the Harold J. 'Baba' Landry
Landfill in Berwick. Regular operating hours are 7:00 a.m. to
4:45 p.m., Monday thru Friday and 7:00 a.m. to 2:45 p.m. on
Saturday and Sunday; however, for the next couple of weeks
these facilities will be open extended hours daily until 7:00 p.m.
. You may call the Pick-Up station to confirm its hours at
337-828-4100, ext. 114 and the Landfill at 985-385-4531.
If you live within the corporate limits of Morgan City, Berwick,
Patterson, Franklin or Baldwin, please contact the respective
city hall for information concerning debris removal within
the municipalities.

---

NOTIFICATION FROM AMERICAN REDCROSS 7/19/19:

The Disaster Assessment teams are in your parish today.
Here is some information that may be helpful:
• As our teams survey the affected areas, this data is being
transmitted to our DA team at HQ, located in Baton Rouge.
We should have information for you regarding numbers/percentage
complete/etc. beginning tomorrow.
• This real time data is used to determine the number of "strike teams"
assigned to St. Mary Parish. These "strike teams" are multi-disciplinary
teams that include members skilled in Casework, Health Services/Mental
Health Services, and Supply Distribution.
• Strike Teams focus will first focus on the destroyed homes and
those with Major Damage. These teams will be able to distribute
emergency supplies, provide critical financial assistance as indicated
and connect families with local resources.
• Should persons call your office in need of help due to the storm,
please ask them to call 1-800-REDCROSS (1-800-733-2767)
---
---

PLEASE NOTE ST MARY IS CONSIDERED SOUTH CENTRAL..
WHEN SEVERE WEATHER IS EXPECTED :

PLEASE TIE DOWN LOOSE OBJECTS, SUCH AS: GARBAGE
CANS, PATIO FURNITURE, PLANTS, ETC. MINOR
FLOODING MAY OCCUR ALONG THE COAST CYPREMORT
POINT AND BURNS POINT AREA WITH STRONG SOUTH
WINDS AND HIGH TIDE...

DURING HEAVY RAINS, PLEASE BE MINDFUL
IF A STREET IS FLOO
DED
DO NOT GO THROUGH BARRICADES
TURN AROUND DON'T DROWN
ALSO WAKES MAY PUSH WATER INTO HOMES

---
---
---
---
---
---



Severe Storms Awareness Week: Tornadoes
Watch vs Warning- Do you know the difference?
A tornado WATCH means BE PREPARED.
A tornado WARNING means TAKE ACTION.
If there is a tornado watch pay extra close
attention to the weather and be ready to act,
because tornadoes are possible. If there is a
tornado warning, find shelter immediately,
and move to an interior room on the lowest
floor of a sturdy building, because a tornado
is occurring or will shortly. Avoid windows
and cover your head to protect yourself from
flying debris.Take Action! Acting early
helps to save lives!
https://www.nws.noaa.gov/om/tornado/ww.shtml
#SpringSafety


---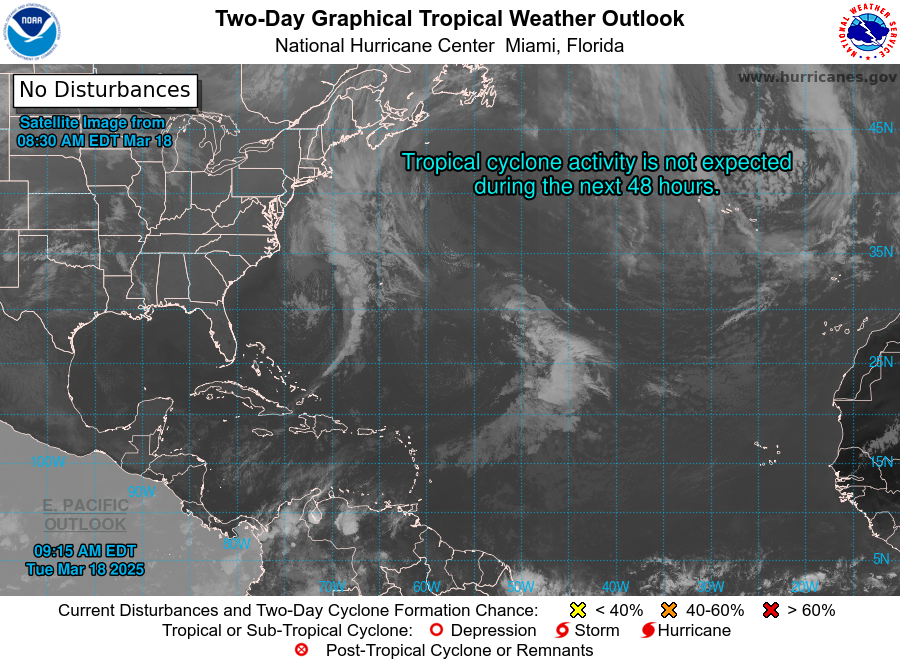 ---
---
---



ST MARY PARISH HURRICANE GUIDES ARE LOCATED IN THE LOBBY OF THE ST MARY PARISH


COURTHOUSE BUILDING LOBBY OR ROOM 105 OR 107, 1ST FLOOR.

YOU MAY ALSO DOWNLOAD LA GOHSEP HURRICANE GUIDE AT THE FOLLOWING LINK:

https://gohsep.la.gov/evacinfo/Emergency_Guide_v46b_7-1_4p.pdf



FOR

ROAD CLOSURES

PLEASE GOTO THE LINK BELOW:

https://lb.511la.org/lalb/


---

On October 10, 2013: Flood stages at four forecast points along the Atchafalaya River will be changed to better reflect flood impacts along the reaches of the river served by these forecast points.

The National Weather Service will change the river flood criteria at four locations along the Atchafalaya River to better reflect the flood impacts at the following locations: Butte La Rose, Melville, Krotz Springs, and Morgan City.

Morgan City


| | New Criteria | Current Criteria |
| --- | --- | --- |
| Action Stage | 4 Feet | 4 Feet |
| Flood Stage | 6 Feet | 4 Feet |
| Moderate Flood Stage | 7 Feet | 7 Feet |
| Major Flood Stage | 12 Feet | 12 Feet |

These changes in the flood criteria will allow emergency managers in Avoyelles, St. Mary,St. Martin, St. Landry, and Iberia parishes to better serve the communities that would
be impacted by flooding. These flood criteria reflect input from the leaders of these parishes,
along with first responders, and citizens.

Important: These changes will not affect flood insurance maps or flood insurance rates for these locations. This will only affect the watch and warning criteria at this locations .


---


Have you developed your disaster plan? Start today. You never know when the unexpected will happen. Be prepared; develop your emergency kit!

Ready.gov - FEMA Federal Emergency Management Agency
Louisiana Governor's Office of Homeland Security and Emergency Preparedness


---

Go to this link for St Mary Parish School updates:
https://www.stmaryk12.net
---
The
ALERT FM
app is now available for iPhone and Android devices.
Below are the links that go directly to the ALERT FM app.
iOS:
https://imap.tv/2k
Android:
goo.gl/qwQyU
---
River Stages
National Weather Service


CURRENT RADAR FROM THE US NATIONAL WEATHER SERVICE LAKE CHARLES

---
WEEKLY WEATHER UPDATE FROM
US NWS LAKE CHARLES
5/28/2020
:


Scattered showers and thunderstorms are expected this
afternoon and evening.
Some of these storms could produce
damaging winds and large hail.
By Friday afternoon, a drier weather pattern will set up and
continue through the
weekend into early next week.
Temperatures will be near normal.
Roger Erickson
Warning Coordination Meteorologist
National Weather Service
Lake Charles, LA
---
According to The American Red Cross, the internet - including online news sites and social media platforms - is the third most popular way for Americans to gather emergency information and let their loved ones know they are safe.
Through the use of everyday technology, individuals, families, responders and organizations can successfully prepare for, adapt to and recover from disruptions brought on by emergencies and/or disasters. With effective planning, it is possible to take advantage of technology before, during and after a crisis to communicate with loved ones and manage your financial affairs.
FEMA Text Messages
Use your cell phone's text messaging capability to receive text message updates from FEMA (standard message and data rates apply).
Here are basic commands to get started:
To signup to receive monthly preparedness tips: text PREPARE to 43362 (4FEMA)
To unsubscribe (at any time): text STOP to 43362 (4FEMA)
PLEASE CLICK ON THE LINK BELOW:
St . Mary Parish's
Emergency Notification
System


https://public.coderedweb.com/CNE/EE6068DD11C4
Link to register your cell phones and email ONLY!!


PLEASE NOTE:

HOME AND OFFICE LANDLINE PHONES ARE ALREADY REGISTERED FOR CODE RED ALERT SYSTEM!!!


---